If there is one thing I hate, it is paying full price for an item.  I am always on the look out for deals and steals to save myself money and make our dollar stretch further!  I can't say I never pay full price, but I try not to.  If anything trying not to pay full price prevents those impulse buys sometimes.  So here it is 7 ways to save when decorating your home:
Buy used!  Check out yard sales, thrift stores, Craigslist, Facebook Market place.  You can find some really great items for your home.  Some brand new and never used with a much lower price.  Our couch is a great example! I found on Craigslist and it was brand new, but less than half the price on Wayfair.  Wayfair had the exact same couch for $850 while we paid $300.  A total of $500 in savings!  Sometimes this route takes some time to search and find exactly what you are looking for, but it can be super rewarding.  The thrill is in the hunt here!
2. Check stores like Home Goods, Tuesday Morning, Wayfair, and Overstock that sell brand new items but at a discounted price from many retailers.  I find a lot of our home decor items through these stores to find name brand items at a discounted price.  Stores like Home Goods and Tuesday Morning you have to visit frequently as inventory is constantly changing.  I find I do a lot better when I go during the week.  I usually stop on my way home from work.
3. Use Ebates if you are shopping online!  Shop with Ebates online at your favorite stores, receive cash back on your orders, and get paid by check or Pay Pal.  Easy and Simple!  I downloaded the Ebates assistant on our browser and it will let you know cash back deals and if sites you recently visited have changed their cash back rewards.  For example, Overstock had been 2% cashback, but tonight I got an alert that it was now 10% cash back.  10% cash back is pretty amazing!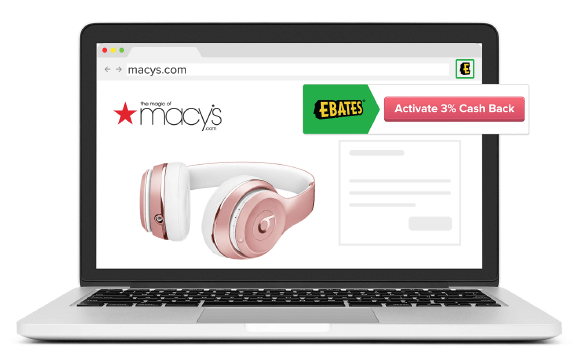 4. Use Honey.  Honey is another site that helps you find the best deals with automatic coupon codes.  Honey makes it easy when you download the free extension to your web browser and lets you know what coupons are available at the sites you are shopping at.

5. Do it yourself!  Paying a professional is expensive!  If you can do it yourself, put in the hard work and save some money. Doing it yourself can be so rewarding! That being said sometimes a professional is 100% necessary for things you are unable to do yourself.  The trick is knowing the difference!
6. Sell unwanted items like clothes or furniture when you do spring cleaning and use the money towards decorating your home!  I find Thred Up is really convenient and easy for selling clothes and prefer Facebook Market place for selling furniture items.
7. Refinish furniture items.  Don't have time to sell unwanted items? Can you refinish them and repurpose them somewhere else in your house?  I have plans for several furniture pieces in my home to repurpose and update with paint.  Now I just need to find the time to prep and paint these items!  We have several ikea pieces of furniture, in particular a dresser and bookcase, that I would like to update with a fresh coat of paint and some new pulls on the dresser.
How do you save money when decorating your home?!  I'd love to hear your tips and tricks!